Jurassic World: Dominion Dominates Fandom Wikis - The Loop
Play Sound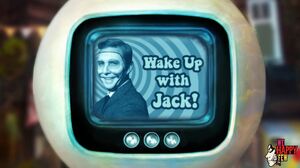 Uncle Jack is a main antagonist in We Happy Few. He acts a sort of leader figure for the town, continuously broadcasting on every television and radio. He serves as a propagandist for the town, pacifying the citizens with childish games like Simon Says, reminding them to constantly take their Joy, and encouraging them to kill the Downers, who supposedly threaten their way of life. He also tries to stop the Wellies from looking into their past, telling one viewer to lock up a box of his medals from the war, and refusing to answer another's question about how England won the war.
According to The House of Curious Behavior's List, he is denied entrance because he is very behind on dues.

SPOILERS BELOW
Prior to the Germans' return to their home country, he was a collaborator of the occupation forces, acting as a calm and familial figure to ease the country's transition into a subject of the German Empire. While fully committed to the cause starting off, his will is shaken when the Germans begin rounding up children of 13 years of age to ship them to concentration camps, though he is able to hide his daughter thanks to his political clout. Unfortunately, his daughter is discovered by Ollie Starkey and is reported to the Home Army, who, as she attempts to escape, gun her down.
At the end of the game, it is revealed that Jack had a breakdown on set after a news story about a woman who made dolls reminded him of his daughter. He became a Downer during the taping and attempted to reveal the truth of Wellington Wells' situation, saying that they would all starve to death and exhorting the populace to stop taking Joy. The tape ends with Jack smashing the camera with a cricket bat, and it is unknown what happened to him afterwards.
Background
He is portrayed by Julian Casey.[1]
Little is known about the character's background, other than that he had a daughter and a dog, both of which are now dead.
His last name is Worthing, as revealed in the Kickstarter video and the various broadcasts in the game.
It's implied that after becoming a Downer, he became the serial killer Foggy Jack. The killer's catchphrase ("We've come to the end of our time") is the last thing Uncle Jack says in his final tape, and Jack at one point jokes that he might become a killer if he went off his Joy. The killer is also said to resemble Jack, and people later claim that he has been captured.
In the DLC "Lightbearer" Foggy Jack (his alter-ego) framed famous celebrity Nick Lightbearer for killing his fans and his former agent Virgil, Nick started to think he was the killer because of his blackouts when he took too much Joy. Nick later encounter Foggy Jack in a maze where he revels he did this to make him write a song about himself (probably to strike fear), eventually Foggy Jack was defeated by Nick from the "power of Rock and Roll" and have been taken by the Bobbies, the authorities never revealed his true identity to avoid panic. It's possible that Foggy Jack escape custody and continues a killing spree.
Videos
Uncle Jack's YouTube debut was June 4, 2015, as the launch video for the game's Kickstarter campaign.
Uncle Jack's first episode was released on June 25, as a Kickstarter update.
The sequel was released June 30, also as a Kickstarter update.
References
[[1]]