Jurassic World: Dominion Dominates Fandom Wikis - The Loop
Play Sound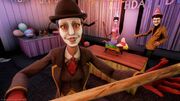 Victoria Byng is a character in We Happy Few. Her office is located in City Hall.
Victoria is a Director at City Hall's Department of Archives and ostensibly the head of Arthur's department. It seems that she trains new recruits; Arthur remembers her telling him that he had a "great future" ahead of him. At the beginning of the game, she appears in Arthur's office, reminding him to attend a birthday party for Deirdre, but she notices that Arthur has "forgotten" his Joy, which she finds on the floor by his desk. She questions him about it for a moment, but forgets it, more or less, when Arthur assures her he has taken it, making Victoria take the extra pill instead. When Arthur's power cell dies, Arthur states the obvious and Victoria responds sarcastically to him. She also shows sarcasm if you go up to her whilst getting the new power cell on some occasions, saying something about tying a yellow ribbon to the door so you can find it. Victoria then leaves the office once you place the new power cell in the Redactor and decide whether or not to approve or censor the article concerning Percy and Arthur.
When Arthur (who is coming down from the effects of Joy) makes it into the conference room and reacts with horror upon seeing that the "pinata" at the party is a dead rat after hitting it himself, Victoria quickly realises that he has become a Downer. A letter found in Clive Birtwhistle's office reveals that he asked Victoria to give him Arthur's office instead; when she refused, he wrote an anonymous letter voicing suspicions of Arthur. However, the letter is found crumpled on Clive's floor, suggesting that Victoria never received it (thus didn't take any action about Arthur before.)
Sir Robert Byng (also referred to Gen. Robert Byng in May 7, 1947's article "Gen Byng Clarifies Registration Procedure") is Victoria Byng's father as seen in the article published on August 22, 1945, titled "Bolshevism Against Europe Gala a Smash." The article reads as follows: "The new and exciting exposition, 'Bolshevism Against Europe,' had its sparkling gala at City Hall last night. Eighty-eight invited luminaries including the new queen of the Wellington Wells stage, Jane Morris, as well as the members of Executive Committee, and of course Sir Robert Byng and his eye-catching daughter Victoria attended the glamorous function."